Shopping Cart
Your Cart is Empty
There was an error with PayPal
Click here to try again
Thank you for your business!
You should be receiving an order confirmation from Paypal shortly.
Exit Shopping Cart
Old Anglican Catholic Church, USA
"An Historic Traditional Evangelical Anglican Church"
Spiritual Reflections Blog

Spiritual Reflections Blog
| | |
| --- | --- |
| Posted on December 22, 2015 at 2:30 PM | |
Christ Born of Mary
2 And it came to pass in those days that a decree went out from Caesar Augustus that all the world should be registered. 2 This census first took place while Quirinius was governing Syria. 3 So all went to be registered, everyone to his own city. 4 Joseph also went up from Galilee, out of the city of Nazareth, into Judea, to the city of David, which is called Bethlehem, because he was of the house and lineage of David, 5 to be registered with Mary, his betrothed wife, who was with child. 6 So it was, that while they were there, the days were completed for her to be delivered. 7 And she brought forth her firstborn Son, and wrapped Him in swaddling cloths, and laid Him in a manger, because there was no room for them in the inn.
Glory in the Highest
8 Now there were in the same country shepherds living out in the fields, keeping watch over their flock by night. 9 And behold, an angel of the Lord stood before them, and the glory of the Lord shone around them, and they were greatly afraid. 10 Then the angel said to them, "Do not be afraid, for behold, I bring you good tidings of great joy which will be to all people. 11 For there is born to you this day in the city of David a Savior, who is Christ the Lord. 12 And this will be the sign to you: You will find a Babe wrapped in swaddling cloths, lying in a manger." 13 And suddenly there was with the angel a multitude of the heavenly host praising God and saying: 14 "Glory to God in the highest, And on earth peace, goodwill toward men!"
15 So it was, when the angels had gone away from them into heaven, that the shepherds said to one another, "Let us now go to Bethlehem and see this thing that has come to pass, which the Lord has made known to us." 16 And they came with haste and found Mary and Joseph, and the Babe lying in a manger. 17 Now when they had seen Him, they made widely[d] known the saying which was told them concerning this Child. 18 And all those who heard it marveled at those things which were told them by the shepherds. 19 But Mary kept all these things and pondered them in her heart. 20 Then the shepherds returned, glorifying and praising God for all the things that they had heard and seen, as it was told them. Luke 2:1-20 (NKJV)
+++Metropolitan Archbishop Andrew Mcmenamin
Primate, Old Anglican Catholic Church, USA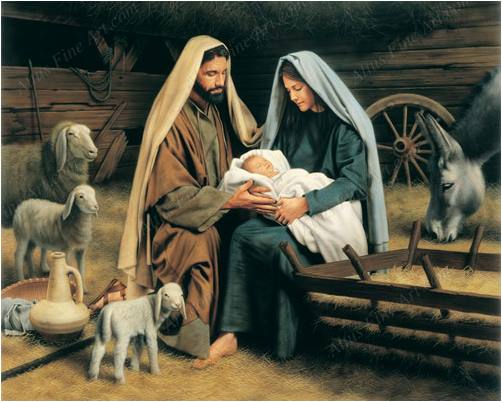 | | |
| --- | --- |
| Posted on April 1, 2015 at 4:25 PM | |
Jesus saith unto her, "Mary": An Easter Meditation on John 20
In the deep, dark gloom of that first Easter morning, the disciples were consumed in grief. Having followed Jesus through His ministry, witnessed His miracles, heard His teaching, and experienced His compassion, they were now wrestling with the stark reality of death. Jesus, the Light that had enlightened their world, was gone. The darkness of those three days must have been overwhelming, watching and waiting for the next shoe to drop, and their own death to come either sooner or later.
But as is often the case in grief, people find things to do. The women who followed Jesus went to His tomb to finish the burial process that was so quickly executed the previous Friday. But upon their arrival, the stone that had been sealed over the tomb by Pontius Pilate was rolled away. Immediately they ran and told the disciples, and Peter and John ran back to the tomb… only to find the grave clothes set neatly in their places. As the disciples wandered incredulously back to the house, Mary Magdalene sat weeping outside the tomb. One can imagine that into her darkness and despair, the seemingly unthinkable insult had been added to the injury: Jesus body was stolen. Through her tears, she heard the angels speak to her, but couldn't understand that they were angels. Then came the words of the risen Jesus to her, asking her why she wept. To this repeat of the angel's question, Mary's terrible grief prompts her to think Jesus is just a gardener, and that she will demand to take Jesus' body back from him. Mary's descent into the throes of lamentation have so clouded her mind, that she cannot even discern what is right in front of her.
Jesus pierced her gloom by speaking her name—and immediately His light and life broke through to her. Her lovingly gasped reply of Rabboni shows that she both heard and understood Him for who He was. Lost in grief and despair, Jesus changed everything for Mary in the instant He called her name.
So it is for us, too. We who walk in the darkness of the fallen world, are often tempted to grief and despair. We suffer in our own flesh, and we live alongside the suffering of others. We see death working itself out in us, and in all the people around us. We see communities and republics fall to the forces of evil, even as the ceaseless whispers of wickedness enter our own ears from the relentless deception of the evil one. We are surrounded by disease, death, and despair, as the pillars of society crumble. We watch our churches strain at gnats while swallowing camels, clergy more attentive to their own political interests than the good of the people, and people who demand clergy who will scratch their itching ears with anything but the Word of God. It is a dark and oppressive mess in many parts of this world, brought on by the sin and wickedness we let loose upon it so many millennia ago. We often sit weeping in our pain and suffering, unable to see what is right in front of our tear clouded eyes.
To you and to me, comes the call of Jesus. He speaks your name just as He did Mary's so very long ago. He enters your death, your suffering, your pain, your despair, and gives you light, and life, and forgiveness, and hope. He brings to you His own victory over death and the grave, and imparts to you a peace that can never be taken away. The Light of the World is not extinguished—but rather, it shines with all the brilliance of God's eternal love for mankind. Jesus is the One who dispels our gloom, calling us out of our darkness, and into His marvelous light.
As it did 2000 years ago, so it does today: Jesus changes everything. Is darkness closing in upon you? Is the devil whispering in your ear? Are your eyes so full of tears that you cannot see a single step ahead of where you are? Are you so full of fear that you struggle to rise up and pass the threshold of your door, let alone plunge into the world at large? Hear Jesus call your name, ever so gently and lovingly. Hear Him as He enters your darkness, your temptation, your sorrow, and your fear. Hear Him as He takes all your troubles upon His almighty shoulders, and pins them to His Cross forever. Hear Him as He passes through your death, and returns to give you life everlasting. Hear Him call your name, giving to you faith to believe His promises of forgiveness, life and salvation, and His grace by which you are born again into Him. He has made all things new by His Passion and Resurrection, and He calls to make you new today as well. Hear Him. Amen.
Courtesey of the Lutheran Hermit (c) 2015
| | |
| --- | --- |
| Posted on January 9, 2015 at 2:10 PM | |
St. Paul continues his discussion of life in Christ, with an examination of sin. He identifies some fundamental truths that people have been trying to avoid for centuries, and no less in our own time. At root, there are only two paths in all the world: one of life, and one of death. While it may look like there are a multitude of philosophies, theories, and religions out there, all that confusion can be broken down into these two fundamental realities. There is God and His way, known to us by His Word, and there is every other way, known to us by their respective conflict with God and His Word. Only in God, the author and sustainer of life, can there be the way of life. This is why Jesus can say that He is truly the Way, the Truth, and the Life, and that no one can come to the Father apart from Him. The difference between Jesus and His Way, and all the other ways of the world, is as great and as stark as the difference between eternal life and eternal death.
Sin and evil, properly understood, are deviations from God and His holy will, made known to us by His Word. Always and everywhere, evil is a corruption of the good will and creation of God. As some have reflected throughout the centuries, evil cannot exist by itself, but only as a cancer or corruption of something already good. Even so, where sin exists in the world, it corrodes and defiles things and people originally made good, twisting them into something contrary to God's holiness and righteousness. Sin and evil twist what was originally good into that which is not, drawing everything it touches away from life into the way of death.
The first to experience this wicked twisting, were the devil and his evil angels. Corrupted by their own pride and rebellion, they sought to be what they were not created to be, and thereby fell into the twisted wickedness of their own evil. Originally created good and pure, with a free will and power beyond human reasoning, the devil and his evil angels are now completely contorted in their wickedness, wielding their still frightening power in the aim to corrupt and enslave all of God's good creation. They are ancient, evil, intelligent, and powerful… and they are the beginning of all that is wicked and corrupted in the universe. It was they who tempted our first parents to follow them into their Fall, and they who exercised dominion over the whole human race once we left our Creator to follow His horrific enemies.
But our God was not content to leave mankind in the way of death they had chosen, deceived by the wicked lies of the devil. Into our way of death God sent His Only Begotten Son, so that He might suffer and die for us all. Our Lord Jesus Christ, the very Word of God Made Flesh, steps into our death, and trades His life for ours, so that we might be brought back into His life. Because Jesus is the only Way of everlasting Life, reconciling all who will repent and believe in Him by the power of His Word, there now exist in this world two paths for all mankind. There is the way of death in which we find ourselves from birth as slaves to sin and the devil, and there is the way of life in Christ found by grace through faith in His saving Gospel.
It's important for us to get this sequencing of events right, according to God's Word. God did not invent or push upon us the way of death. Rather, He created us good, fully made in His wonderful image. It was we who invited in the devil, and with him, our own slavery to sin and death. This cursed earth upon which we live out our short and painful lives is a result of the death we brought upon in, and our suffering and death is justified. But it is God who comes to our rescue, that we might know the way of life again. It is God in the Person of His Son, who steps into our death, so that we might have His everlasting life. God is not the author of sin, slavery, or death, but rather of redemption, righteousness, love, and life.
For this reason, the Christian will always find himself at war in this world. By our fallen nature, we see around us the Law of sin and death, and the old marks of our slavery as sinners. Our bodies break down, we grow old, sick, and frail. We bury our fathers and mothers, sisters and brothers, and sometimes even our own children. But the blessedness of the saints in Christ Jesus, is that though we justly endure this world and all its corruption as sinners, we are alive forever by the grace and forgiveness of our Savior. Thus even though we die, our lives are hidden in Christ, so that we live forever in Him. We are alive: though we suffer, though we break, though we fall into the earth or the fire or the water. We are alive, because the life of Christ Jesus lives in us by the power of His grace.
This is the work St. Paul tells us is accomplished through Holy Baptism. By the infinite power of the Word of Christ, it is Jesus who baptizes you into His death, and Jesus who raises you up to newness of life. It is Jesus who makes you a servant of righteousness by the power of His Word, speaking to you His Holy Law and His Everlasting Gospel. It is Jesus who renews the grace given to you in your baptism when, after having fallen to sin and temptation, you hear His voice anew, and repent and believe. Just as we do not credit the worthiness of the preacher in his preaching when the Word of Christ brings faith and life into the hearts of its hearers, so we do not credit the pastor or the believer when the Word of Christ baptizes a person in His death and life. It is not in the person of the pastor or of the believer, nor in any human work that the Christian trusts, but alone in the Word and Work of Christ our Savior. This is saving faith—a faith which trusts Christ and His Word, and lives in Him by His grace.
To Him alone be all glory and majesty, now and forever! For He has brought to us the Way of Life, piercing the darkness of our sin and death with the forgiveness won for us through His Holy Cross. He has broken the shackles of our slavery to the devil, and breathed His Holy Spirit into us, that we may rise up, forgiven and free, alive forever by His Word of grace. He has reconciled us with the Father, bound us all together by His Holy Spirit, and washed us in His Holy Blood. Thanks be to Christ our Savior, now and forever more! Amen.
Reprinted with permission from A Lutheran Hermit.
Author:  The Most Reverend Bradley Varvil, Tacoma, WA
0

/